The days are short, the nights are long, and we have much to report...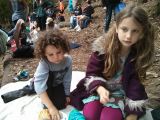 ... which is what happens, of course, when you don't blog for four months. I'll pick up in July, when we took advantage of some of San Francisco's fun events: the JPOP festival in Japantown, where we saw some great costumes, survived some insane crowds, and did
some amazing jumping
; and a free concert in Stern Grove, where we heard Pupy Y Los Que Son Son and Vieux Farka Toure, though I only know this because I looked it up on the schedule. We brought a picnic lunch and spread our blanket out up beneath the surrounding trees. Note: to be close to the stage, arrive EARLY.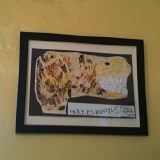 We framed Asher's master work, "Herrarasaurus," which now hangs in the kitchen, and headed down to Santa Cruz to see Grandpa Roger and Grandma Myrna, who introduced the kids to
Thomas the Train in the redwoods
. Thomas tugged us through the forest and then we returned to the olde fashioned station for ice cream. A
good time
was had by all! Plus, Ada had some time to
teach grandpa
some computer programming. The month also featured lots of
lego building
, a quick work trip to DC for Dave, and some
really
great
kite
flying
and
beach time
.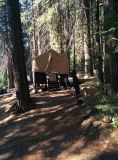 August began with a visit from
Grandma Vera
and
Grandpa Bob
, Julie and Donovan, and then we headed off to the
Lair of the Bear
, where we spent a fun-filled week in a tent cabin. We
rented paddle boats
,
enjoyed the camp
,
did some walking
,
relaxing
,
running
, and
playing in the trees
. I took advantage of the pottery wheel (unfortunately, all but one of my pots exploded in the kiln. Maybe next year I'll have more luck?) and Dave took an archery lesson. The nights were filled with
disco bingo
, live shows, and
relaxing
at our site. Everyone had a great time and we hope to go back next summer.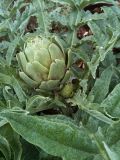 Our new artichoke plant in the front garden produced its first artichoke and then public school started up again. Ada started third grade, and Asher started at a new preschool, which he is really liking. We had
friends over
, we went to the
Boardwalk
, I made a
shirt
. We saw the SF Shakespeare production of Taming of the Shrew, which Ada performed with her camp earlier in the summer. It was fun to watch the show outside in the park.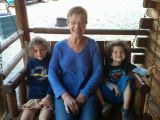 And that brings us to the end of August and the beginning of September, when we went KAMPING. That's right.
KOA Cloverdale
, where "cricket concerts, bullfrog symphonies and the sound of ducks and geese welcome campers." In addition, we were greeting by
this cheerful sign
, which set the tone for the entire weekend. We were joined by Grandma and cousin Cyrus, who stayed in an appropriately named
cabin
right next to
our tents.
We saw a bunch of deer, a bunch of bees, a bunch of
crazy runners
and
swingers
. The bees made eating outside a bit challenging at times, but we still managed to enjoy some great meals, and an awesome pool with a view. I would definitely return. Maybe next time, we'll have time to take advantage of the putt putt golf...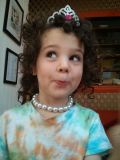 With September came the beginning of Hebrew school for the kids on Sunday mornings, and our discovery of the Clement Street farmers' market, which happens at the same time just a few blocks away. So, while the kids are in class, Dave and I get a coffee, buy local organic stuff, and admire various baked goods and cheeses. Other highlights included seeing our friend Mike's band play at
The Chapel
, Back to School night, Al's birthday dinner, a reading by the very talented Laila Lalami, a gaggle of kid birthday parties, and our foray into the world of food service: The Halloween Carnival, for which Dave and I volunteered our time and talents. Our job: to supply food for an unspecified number of people, maybe 300? The records were hard to decipher, but we spent a good chunk of time planning and pricing a menu and figuring out how to get all the supplies we needed.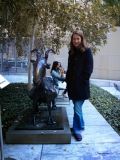 And then October arrived! And with it came an exciting trip to NYC, just me and Ada, to celebrate my good friend Meredith's son's bar mitzvah. Ada and I stayed in a flat in the West Village, were awed by the
gorgeous synagogue
, and the
Essa bagels
(my old favorites), and the
MOMA
, where we took turns posing with one of my
favorite statues
. Ada spent some time
climbing rocks in Central Park
and
snuggling with weird creatures
. We had a great time and arrived back in SF just in time to
see Lenore
, who was up visiting for the long weekend.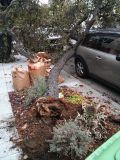 The day after Lenore left, the tree in front of our house fell down for no apparent reason. Fortunately, no one was hurt, but we miss the tree very much. Ada had her birthday--a slumber party at our house with a
few
good friends
. We ate sushi and made mosaic boxes and much fun was had. Asher had a
friend over, too
. While the girls were making mosaics, they were making swords out of paper...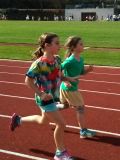 We all went out to Ada's school's big fundraiser, the walk-a-thon. Even
Dave did some laps
for the cause, though we could have used all that energy the following weekend when
we were on duty
for the
Halloween Carnival food
. We learned, um, a lot, and next year? We'll totally rock it. Ada and Asher had a great time hanging out at the fair as well, bouncing in the bouncy houses, winning prizes, and hanging out with friends. For Halloween itself,
Ada dressed up as a pizza
,
Asher as Darth Maul
, Dave as an olive. I myself managed to get Ada off to school with the pizza glue mostly dry... We trick-or-treated with the traditional crowd, but instead of relaxing the next day, we had friends and family over for a
mega-birthday dinner party
.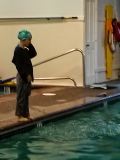 The final excitement of October was that Ada finished Level Two swim and got to jump into the pool with all her clothing... And that brings us to November, which is just starting out. I'll leave you with some
Ada
and
Asher
pics, and the promise that Dave will be back to wrap up the year in the next blog entry.