And then it was Fall...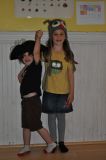 The days are getting shorter, but that does not mean they have not been jam-packed with adventure! September featured trips to
Santa
Cruz
(and the
beach
!),
Happy
Hollow
,
home theater
, and the first
20th Street street fair
, where the
bubble guy
wowed us with his bubble skills. Dave and I ventured out to the
South End Rowing Club
, where we encountered
this
and helped our neighbor ring in her 40th. The month's biggest excitement, however, was
the ridding of the diaper changing table
. That's right. We were
nostalgic
, but not that much. Ada also
started second grade
, which happened in August, but the photos wound up in this batch, so I'm mentioning it here. And also, we've become regulars at
Exploratorium After Dark
. You should come!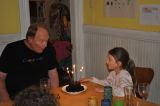 October was mostly about Ada, who celebrated her birthday four times:
with us, Aunt Julie and Jennifer
, on her actual birthday; with
grandma
and
John
on the following Friday; with her
friends
on
Saturday night
, and then AGAIN with her friends on
Sunday morning-
-those that
made it through the night
. Much fun was had by all. The birthday festivities were soon followed by
Haloween
. Asher was "
Dark Vader
" and Ada was a hot dog, which we made together. She discovered that it was difficult to trick or treat in a bun, but the bun held together, which was exciting. We spent the night with
a gaggle of hardcore trick-or-treaters
and collected insane amounts of candy. Dave and I also ventured out to the Castro Theater for an AMAZING showing of
Grey Gardens with Peaches Christ
; Ada walked many miles for her school walk-a-thon fundraiser; and I went and saw the very talented
Ethel Rohan
read from her new book, Goodnight Nobody.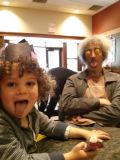 November began with a big
celebration
for Asher, who graduated from preschool to a new preschool! We celebrated
birthdays
with
friends
, and that brings us to Nov 2nd, where the photo upload stops. Next post will wrap up this year! In the meantime, some photos of
Ada
and
Asher
.