Fín 2014!

Welcome all to the end of 2014! Welcome also to the first relatively timely blog in eons. Only two months to cover. Lucky me!
The last two months in 2014 were all about holidays and travel. It started with a trip for me to Sydney, Australia and the
IUCN World Parks Congress
which is held but once a decade. There I gave a few presentations and helped host esteemed researchers, such as
Matt Hansen
discussing deforestatation and
Sylvia Earle
talking about the state of the world's oceans. I even got to hangout next to Sir Richard Branson...
sort of
. I didn't get much time to visit Sydney, but whenever I did, I was beset by the ubiquitous ibis, the
pure
, and the
cyber
.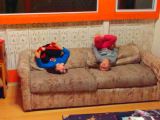 Meanwhile, the kids were
flipping out
at home. Upon my return, we had some quiet time before our next trip, which we filled with meatloaf ala
Ada and chef Suzanne
. And then to Thousand Oaks where we celebrated Thanksgiving and Hanukah with the Thau family,
lit candles
, made
candy necklaces
, visited a
Chumash museum
, learned the
rules
of four square and
watched
hours upon hours of the Macy's parade.
Then back home to kick off December where the celebrations did not cease. There was
Ada's graduation
to the next level of gymnastics,
Kirsten's
birthday celebration at
Castello di Amoroso
, mud bath at
Spa Solage
, and dinner at
Commonwealth
, and
Asher's escape
from
Mr. Lunch's jail cell
. Christmas started a bit early with a visit from
Grandma Eve
who gave the kids some
plastic clothes
that had
surprising
qualities
that played especially well at our nearby
swinging
skateboard park
.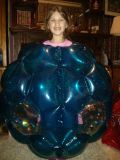 Then we packed in many visits and much merriment, including
ice skating
and
dinner
with Kiara, Emily, and Siobhan, a
bathroom break
with Al and a gentleman with his objects,
latke celebrations
with Karen, Matthew, Emmet, and Desmond, a visit with
Grandpa Roger and Grandma Myrna
, and some
Hanukah
celebrations
of our own.
Finally, a quick trip to the
Tenaya Lodge
for
Christmas
, where
we hiked
(a little),
tubed
(a little), and
froze
a
(a little)
. And that's it! Goodbye to 2014 (and
Kirsten's grotto office
)! We're going to have a New Year's party at our place, which will fall upon Kirsten to chronicle in 2015. We'll see you then! And yes, here are some more pictures of
Ada
and
Asher
.